Pain... incredible pain! Lanat is always subjected to pain, his latest torment being forced to dress as a maid for his current job. But isn't it a bit too much when his rather questionable, supposedly moribund employer asks him to go and find a burial shroud of dubious existence? More incredibly painful pain awaits Lanat on his travels! Luckily, he has an incredibly high pain tolerance. But even so, can he withstand the indignities of a transforming bird-girl, a blond loose cannon, and a politically conniving noblewoman? Not to mention wandering nomadic tribes and camels. Oh, lots of camels! Behold Lanat's painful woes as he travels from humiliation to injury and back! Behold, this is Parallax! credits: payroo - drawer of all pages, art, etc. caronee - story, plot, etc. consultant anbumoo - art consultant, planner of conspiracies with payroo to drive caro mad
CO-AUTHORS' WORK

Even though I, payroo, do pretty much all the site updating and draw all the manga pages, Parallax is not a solitary effort! I do have two partners-in-crime who collaborate with me for story planning, etc. Occasionally anbumoo draws something! Like this!

Jakk and Poki!!!

and this!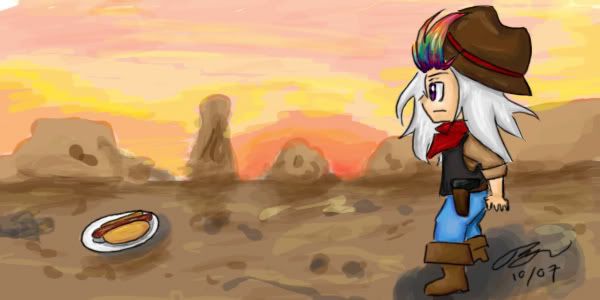 Western Poki?!

maybe someday I can get even caronee to draw something... except she's more of a story planner than an artist.